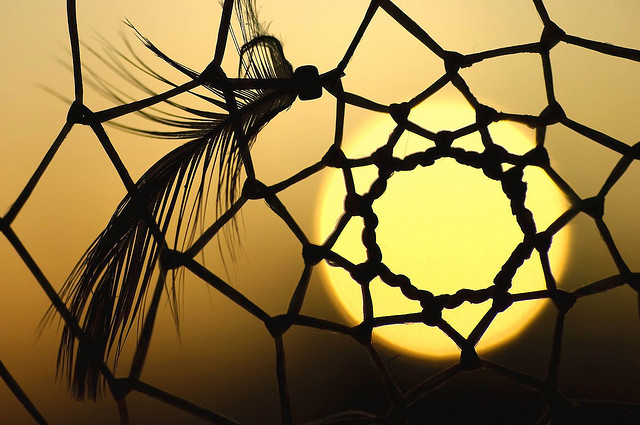 Listen here or download from Heart of Mind Radio – 06.12.21  "Giving Voice to the Indigenous Spirit." 
Heart of Mind, Radio for the New Millennium: A central source for health, consciousness, spirituality and self-liberation. 
Host Kathryn Davis shares an excerpt from a conversation between Shannon CrossBear, Jim Greywolf Petruzzi and Sue Blythe, originally recorded as part of a climate conversation-to-action program.  Discussion is sparked by recent revelations about mass unmarked graves of Indigenous children killed at residential school in British Columbia, Canada. Sparking talk of genocide and systemic racism and generational trauma. Including the difficulties faced by a people with little resources to implement change, and/or participate in campaigns that do not resonate culturally, or satisfy their cultural needs. And the responsibility of the dominant culture to clean up what they have created.
The Climate Collaboratory is an intergenerational pilot project of We, the World and the University of Florida Extension.
Learn more about this and much more from: "We the World" at WE.net
Article Reference: https://www.theguardian.com/commentisfree/2021/jun/09/discovery-mass-graves-canada-indigenous-people-first-nations-residential-schools
Featured Music:Frog Dancing by David Anthony Clark; Little Wheel Spin And Spin by Buffy Saint Marie, Shadowlands by Bruce Horsby; Sunrise Prayer by Douglass Spotted Eagle
Guests:
Shannon CrossBear articulates her purpose as: To demonstrate and promote gentle healing. She expresses her commitment to healing through her work. Her own community and family history propelled her to develop leadership in order to address disparities that have led to poor outcomes for friends and relatives. Shannon's work has included facilitating and consulting with the National Indian Child Welfare Association, the Federation of Families for Children's Mental Health, Georgetown University, The National Child Traumatic Stress Network, and was the co director of the National Dialogue on Adolescent Substance Use Disorders. She has worked with Tribal and non tribal communities in providing technical assistance to Systems of Care and Circles of Care utilizing traditional interventions and the promotion of culturally congruent and trauma informed practices. Shannon has worked in communities throughout the contiguous United States and Alaska, as well as within Canada, to address systemic change for improved outcomes for children and their families. Ms. Crossbear has facilitated and supported practices and services that include the provision of culturally cemented early childhood parenting programs, supports for transition age youth and young adults, and families with mental health and substance abuse issues. Ms CrossBear is skilled in trauma informed community engagement. CrossBear continues to work with others to demonstrate and promote practices that lead to better outcomes for her friends and relatives. This includes working with WE the World and the eleven campaigns for unity.
facebook.com/shannoncrossbear
Jim Graywolf Petruzzi is an author and speaker. White Otter Academy: Wisdom from the past magically stirred with knowledge from the present as a catalyst to transform your future."
https://white-otter-academy.teachable.com/
Sue Blythe is doing what she can to ensure a livable Earth for her eight grandchildren and their future grandchildren. She's coordinator of We, The World's Campaign for the Environment and founder of the Climate Collaboratory, a pilot project of We, the World and the University of Florida Extension. 
climatecollaboratory.org
Host:
Kathryn Davis is host and producer of Heart of Mind, Radio for the NEW Millennium, heard over WBAI/Pacifica Radio, wbai.org 99.5 FM in NY, and the Progressive Radio Network, PRN.fm. (Info at HeartOfMindRadio.com) She has 30 years experience as a Qigong Teacher and facilitator of Movement, Meditation and Energy Healing systems and is the author of the forthcoming book: Harness the Natural Rhythms of Life.
Heart Of Mind, Radio for the New Millennium now broadcasts on Saturdays 6:oo PM over the Progressive Radio Network, PRN.FM and on Fridays 11:00 AM over WBAI/Pacifica Radio 99.5 FM, wbai.org Kathryn offers private energy healing sessions and spiritual counseling: In person and by phone, SKYPE or Zoom.…
You may contact Kathryn by the following means:
HeartOfMindRadio@gmail.com
Message: (347) 480-1694 – Text: (347) 432-3211
Web Sites:
Kathryn.one
QigongOnLine.net
HeartOfMindRadio.com
BodyAscension.wordpress.com
Sign up for the newsletter:
http://heartofmindradio.us9.list-manage.com/subscribe?u=14dd3eeb47f6f7bfa35d21328&id=5ed8c7bf5a
Join our MeetUp Group:
https://www.meetup.com/Moving-Meditation-Energy-Healing-Qigong/
Social Media
facebook: @HeartOfMindRadio @HeartOfMindSupportGroup @QigongOnLineUpdates
https://www.instagram.com/heartofmindradio/
————–
Weekly LIVE online Qigong Class at StudioMaya.com on Thursday mornings at 8:00 PM
FREE Introduction "What is Qigong" also at StudioMaya.com,6:00 PM the first Wednesday of the month
For beginners and Intermediate practitioners. Proactive health promoting routines: Stress release with gentle movements and breath practice. PLUS Cleansing, detox and immune boosting routine.
"Let's Stay Healthy Together"Likes | Share | Download(7)