"Tell us a Flash!Back," said Annabeth.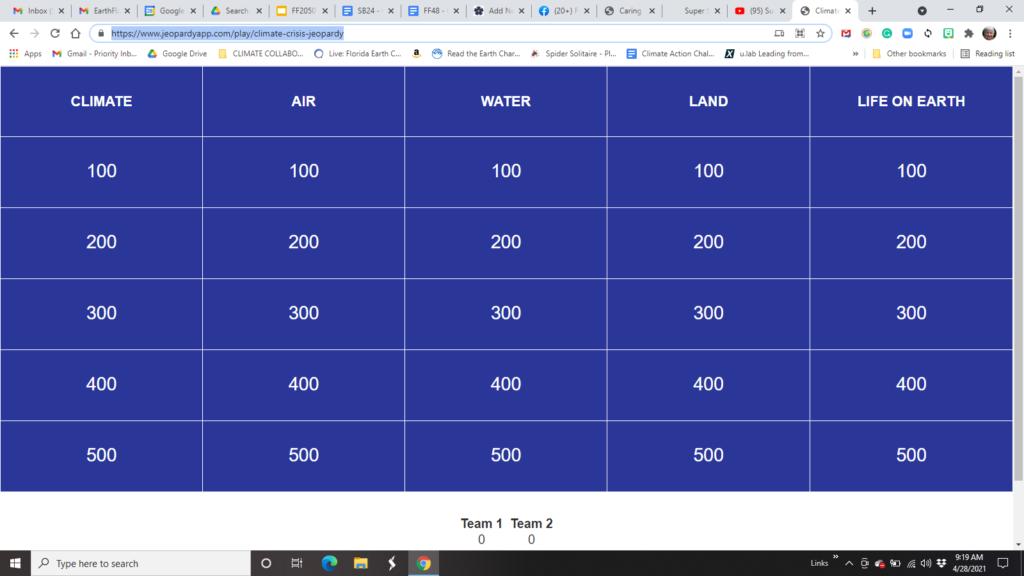 "Tell us a Flash!Back," said Annabeth.
Sage smiled. "How far back would you like to go?"
"Tell us about the Climate Crisis Jeopardy Show," said Ginnie.
"Ah yes, I remember it well," said, Sage, settling back in her chair. She got that look in her eyes, and took her great-granddaughters with her on the Web of Love from the year 2050 all the way back to 2014 at PK Yonge School.
I talked with sixth-graders about climate change. They had never heard of it. I showed them Earthman's Climate Crisis Jam.
We invited Earthman himself to come into the classroom via Skype. He talked with the kids and asked if they could make up a game to go with the Climate Crisis Jam video.
We created the FutureFlash! Making the Game Club. We started making up Jeopardy-style questions. The kids got really excited about possibilities. They thought that the real Jeopardy show should play Climate Crisis Jeopardy. And if they didn't want to, we could call it Geo-Party so it wouldn't be a copyright problem.
We asked others to help write the Jeopardy-style clues and responses. We talked with fourth graders who had just heard about the Great March for Climate Action at an assembly. They told us about the climate marchers, and said they would help write questions. We put all the questions into a Jeopardy-style game board.
Two interns from the University of Florida invited their friends to play Climate Crisis Jeopardy – and Who Wants to Be a Climate Collaborator?
I shared the story at the 2016 Florida Connected Conference. One teacher suggested that we get the Jeopardy Clue Crew to do the Climate Crisis Jeopardy clues.
When Earthman Lanny Smith came to Florida in 2018, we went to a science classroom at Westwood Middle School and played Climate Crisis Jeopardy with two classes. The teacher said, "You don't often see 100% of the students involved 100% of the time.
It wasn't until 2021 that ________________________.