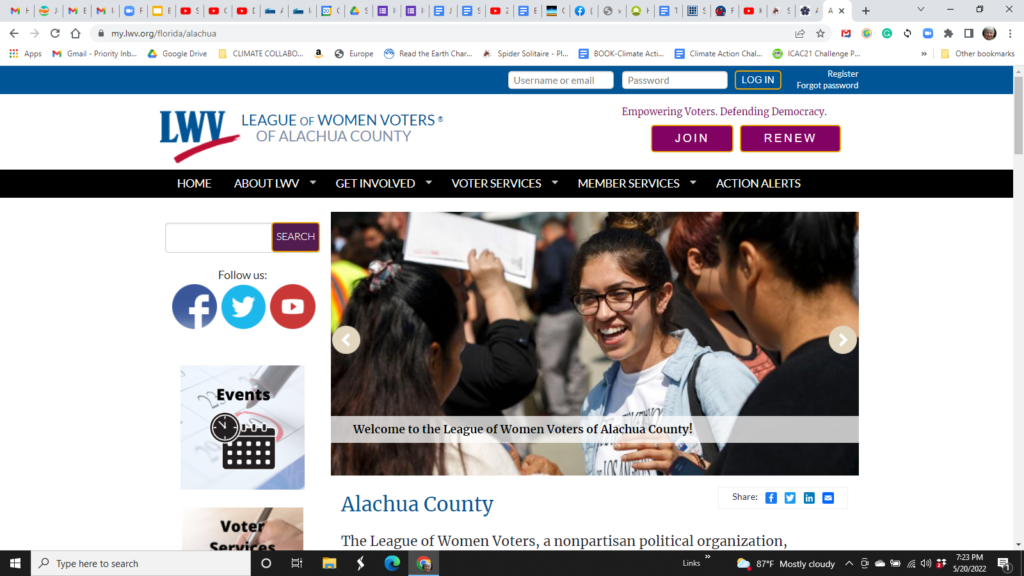 by John Rosenbek
The League's mission nationally, in the state, and locally is to empower voters and defend democracy. Guiding principles are related to diversity, inclusion and equity. Procedures generally are education and advocacy.
Because preserving a habitable environment for all living things is critical to a healthy democracy,The Natural Resources Committees of each league, and more specifically of the LWV of Alachua County, is to advocate for governmental policies that will contribute to preserving habitable, local, regional and state environments. Public education to amplify our messages is also part of the effort.
Consistent with this mission, the Alachua County Natural Resources Committee formulated the following goals for 2022-23:, goals that primarily involve engaging local governmental leaders, with some community education added in the form of op ed pieces and letters to the editor.
1. Demand an immediate end to GRU's natural gas rebates and further natural gas infrastructure.
2. Support an integrated, comprehensive governmental approach to climate adaptation and mitigation led by a Climate Director included in the general government organizational hierarchy and create and communicate criteria/job description for that person.
3. Advocate for a new GRU General Manager educated and experienced in modern, non-fossil fuel- based energy, and create and communicate criteria/job description for that person.
4. Urge the City Commission to commit to all the conditions of the Race To Zero with special emphasis on setting measurable goals for the transition to renewable energy, timelines for reaching each goal, the actions to be taken in pursuit of each, and the creation of a transparent, readily accessible, regularly up-dated dashboard that displays these goals, actions, and progress toward them.
5.       Advocate for a survey of available sites for utility scale solar, for microgrids the cost, and justice issues of each, and for creating goals for the mix of rooftop, microgrid, and utility scale solar to meet city energy needs. 6.  Contribute  to the creation of a city electric vehicle policy.Given  our local NR committee's mission, goals and procedures (and we have measures of progress and contingency plans in response to success and failure but they are not included here), how do we fit with the umbrella notion discussed today?
Thanks for any guidance you can provide.  We want to contribute,
Thanks also for indulging what turned out to be a longer email than I envisioned.
Jay Rosenbek. Co-Chair with Roberta Gastmenyer, of the NR Committee of the League of Women Voters of Alachua County.

* Members of many organizations are Building Community in a Changing Climate