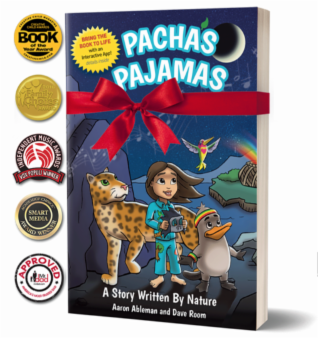 Pacha's Pajamas: A Story Written by Nature
by Aaron Ableman and Dave Room
Illustrated by Allah Elhenson
Purchase the paperback at bookshop.org
A portion goes to the Climate Collaboratory,
a pilot project of We, the World and
University of Florida Extension
Sage saw little Ginnie reading the original Pacha's Pajamas book and smiled. "That's the story that started us on the Road to 2030 and Beyond," she said fondly.
"Tell us how that happened," said Annabeth.
ASK SAGE to tell the story of how she got from the original Pacha's Pajamas to Pacha and the Game: On the Road to 2030 and Beyond. It includes these milestones:
The Sage in Sue Blythe read the story and could see instantly that there was more to the story. Pacha and friends know they need the humans to help. The Florida Interfaith Climate Actions Network had a story worth telling.
She talked with author Dave Room about writing the sequel. They agreed on guidelines.
Gramma Sue sent a copy to each of her grandchildren and sister Laurie's grandson.
Sue talked with Jennison Kipp about making it a children's activity for the Sustainable Floridians.
Sue suggested the Welcome to WE! Show as a way of telling the story. It wasn't time yet, but the WE! Show became a planning platform for the collaborative storytelling adventure. Here's the historic moment in 2019 when we established the Climate Collaboratory!
ASK SAGE to read Pacha's Pajamas. Send an email to Dear Sage <sueblythe@we.net>